Good afternoon, welcome to this interactive discussion entitled 'Progression to an inclusive adult life after a childhood in a special education environment.' Phew, that's a long title!
First, let me introduce myself.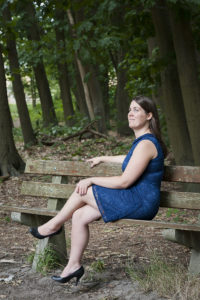 My name is Monique Van Den Abbeel, a former student of the Royal Institute Spermalie, a school for the blind and visually impaired right here in Bruges. For over 20 years, I actively participated as an expert by experience in various social integration projects concerning visual handicaps. I am also a single mom to a 16-year-old teenage son. And lastly, I am an author. My first book 'Graag Zien! Blinde mama, sterke vrouw', which translates roughly as 'Apple of my eye! Blind mother, strong woman', was published on February 4, 2016. This book, which is kind of a testimonial, is the reason I've been asked to speak at this conference. But I have to tell you, this request left me speechless. Which is rare! Because normally, I'll talk your ear off. I'm used to speaking in public, but in English? The people who know me, also know that I don't shy away from challenges, so I took it up, happily. So here we are, and you're witnessing my very first presentation in English. Exciting, isn't it? Before we head off, I'm going to tell you that you can share any awkward questions or comments that pop up in your mind with the group. After each 'new' chapter, we've factored in some time for questions. You'll figure out how this works. I can't see you when you raise your hand, so if you have any questions, please raise your voice. Thank you very much in advance. Off we go…
Special education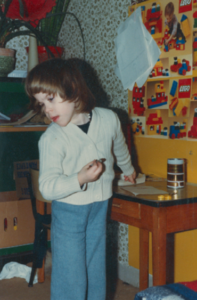 When I was about 4 months old, I was diagnosed with congenital glaucoma, which would cause oculomotor nerve palsy. This visual handicap made close medical monitoring necessary. As a result, I spent most of the first years of my life in the hospital. After two years of kindergarten in a regular school, I was lagging behind because of the long hospital stays, and my parents decided to send me to a school for children with special needs. It was simply more practical for me to stay there fulltime, in boarding school, so that's what I did. The headmistress of the elementary school I attended had a tradition. She took a photograph of every new pupil that came to her school. This picture dates back to September 1980.
The little girl experimenting with crayons is me.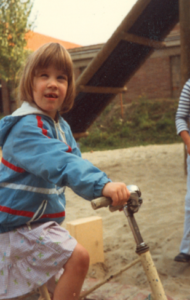 As you've probably noticed, I could still see a little back then, even though I was already extremely visually impaired. A few weeks after this carefree picture where you can see me experimenting with my bike, the retina of my right eye detached, and I became blind in my right eye. When I was about eleven or twelve, I lost the remaining vision in my left eye as well. After elementary school, I went to the Royal Institute Spermalie where I enjoyed an education focusing on sales & administration.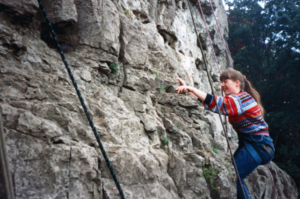 The last year of secondary school, I absolutely wanted to live on my own, in a student flat. Preparing myself for the world beyond the school gates was my first priority. I went to my counsellors with contact information and two addresses of student flats where I would be welcome.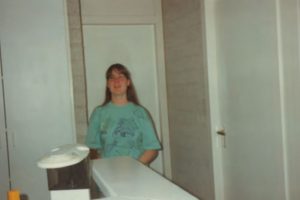 After a few intense conversations about why I was so adamant to live on my own, they proposed that I stay in a little house that was school property and that was being renovated at the time. Officially, I was still enrolled in boarding school, but I actually had my own student flat on campus. An educator came by from time to time to see if everything was alright. She helped me with budgeting, she kept an eye on whether I made it to class in time and whether I was able to study on my own, unsupervised. This independence was good for me. Walking out the door in the morning to catch the city bus, walking to the place where I did my internship, deciding whether I wanted to stay in the city for a little while after work or whether I wanted to run an errand on my way home… I got what I asked for: the right preparation for the life that would start once I'd leave school behind me. I taught myself to be resilient by getting a taste of what standing on my own two feet meant.
On my own
What everyone had felt coming, inevitably happened: after sixteen years of only coming home in the weekends, I had grown up in a completely different environment. I no longer felt at home in my parents' home. But my parents had difficulties accepting the idea that I was leaving their home and wanted to truly live on my own. Putting yourself first is not easy, but as far as I was concerned, it was the right decision. I had learned the basics at school: cooking, doing the laundry, ironing my clothes. I stuck labels in braille on the washing machine and other home appliances, so I could select a program by touch, for example. And like for everyone else, practice makes perfect. At first, when I had just begun to live on my own, I did literally everything by myself, without extra support. Cooking, cleaning, administration. I ran my entire household by myself. I even wanted to do better than people without a disability or impairment. I cleaned like a madwoman, because even though I can't see it myself, I wanted that the people who were able to see, would see that my house was spic and span. Of course, it took me much longer than other people, but in my opinion, this was the way it was supposed to be. Grocery shopping at the local grocery, greengrocery, bakery or butcher shop had never been a problem. A shop assistant took the things I wanted to buy from the shelves, and in slightly bigger stores, like the local minimart, one of the shop assistants would guide me through the store and we would pick my groceries together. But buying groceries at the local grocery or minimart is quite expensive and I can't go shopping in a big supermarket by myself, because I can't take things from the shelves, check expiration dates or carry all those heavy groceries on my back all by myself. I had a really tough time accepting that I needed assistance, and that I had the right to accept assistance. Until I realized that lots of people have a cleaning lady because they just don't feel like cleaning their homes. But I would go to great lengths to do it myself? There are limits. Standing on your own two feet also means that you sometimes have to have the courage to take care of yourself. And that can include asking for help or assistance when you need it. But hiring assistance can be expensive, even more so when you have to live o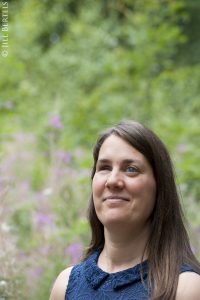 ff welfare. So when I first used home help from the national health service, I only asked for three hours a week. Home help helped out with my administration, household chores and grocery shopping. However, it soon became evident that three hours a week was not nearly enough. In those few hours, it's simply impossible to clean the house, shop for groceries, do the laundry and take care of your administration. So three hours became seven.
Looking for a job
Like every young graduate, I registered with the VDAB, the Flemish Employment Agency, which is an organization that offers job counselling. Finding a job isn't easy for anyone, and certainly not for someone with a visual disability. When I did my telephone communication exam at school, they had told me they had never given anyone such a high score before, not even a student without a disability or impairment. Everyone was convinced that with my capacities, I would quickly find myself a job. I had a lot of energy and really wanted to get a job and work. When I registered at the VDAB, the first thing they told me was: 'But dear, you're entitled to disability benefits, aren't you? Why would you go to the trouble of finding a job?' I was shocked! For a few seconds I was perplexed, but I felt an adrenaline rush coming. I said: "Yes, so what? I just want to work like everyone else, is that so weird? I did not go to school for nothing, I did not do all these internships in vain. You're not seriously suggesting that I let all the time and energy that my counsellors and myself put into all this go to waste and spend my days doing nothing?' The VDAB lady was shifting uneasily on her chair and she looked at me as if I'd just bitten her head off: 'I'm not saying that you should spend your days doing nothing, maybe you can volunteer or something?' Her reaction made it very clear that she had no idea which kind of job I could do. I gave her a bundle of certificates, internship evaluations, my résumé and a letter of application that I had already typed out, together with a lot of documents and information on subsidies employers would be entitled to if they hired an employee with a visual disability. 'You've done internships?' the lady asked. She could barely conceal her disbelief. 'Yes, of course, just like everyone else that studied sales & administration,' I said. She was leafing through all the documents and suddenly became very quiet. 'Who signed all these internship evaluations?' she asked. 'The person who put his signature at the bottom of the page', I replied. I heard her scratch her head. 'But how can you operate a switchboard, work with a computer or make copies when you're blind? You can't see, right?' There we had it. The VDAB lady clearly had never heard of auxiliary equipment. I inhaled deeply and tried to explain calmly how a braille reader, text-to-speech device and braille labeler work. I explained that I am a rather pragmatic person and that a few seemingly trivial household tips & tricks could really make a difference at the office too. I said that a photocopier has a little colored line that marks where you should put the page. During my internship, I had asked a colleague to stick a transparent line on top of that colored line. That way I could feel it and make copies myself. The lady sighed very deeply, got up and said that she would get a colleague. Are there any questions about this last part? Looking for a job can be a fulltime job I wrote a lot of job application letters. The only dilemma that I struggled with, was whether I'd mention that I have a visual disability. I wanted to write an honest application letter, but I also wanted to have a fair chance at a job. So, I decided to do the test. I wrote letters in which I mentioned that I am visually impaired at the end of the letter and explained how I would still be able to work as a receptionist or office clerk despite my disability, using auxiliary equipment. I got very few replies, and if I did, they were of the type that anyone would recognize: 'Thank you for your interest in our company. Unfortunately, your profile does not match the profile of the candidate that we had in mind. Nevertheless, we would like to wish you good luck in finding a job that suits you.' The letters in which I hadn't mentioned that I am visually impaired were the only ones to get positive replies, three of them, and I was invited for a job interview. I didn't usually make it through the second round. But once, I got lucky: I was the best candidate. Yes, I got the job, hurray! I was only 20 years old, had just graduated from high school, was living on my own and I was ready to conquer the labour market … However, two days before I was supposed to start my new job, I got a phone call: the committee had decided that I could not work for this company. The person on the phone told me that I was truly the best candidate and that he himself certainly did not agree with this decision, and that he was not supposed to tell me this, but it basically came down to nepotism. It came as a blow, but once I'd come to terms with it, I decided to change my application strategy. From now on, I decided to contact the company by phone rather than sending in an application letter. When I got a receptionist on the phone, I asked if she could transfer me to someone who could tell me more about the job content. This approach made sure that I reached the right person, and at the right moment, I would subtly mention that I was visually impaired. This approach worked. My voice was and still is my biggest asset. As a candidate for a job as switchboard operator or receptionist, those calls suddenly became an example of the skills I needed for the job. Unfortunately, the companies I applied with were generally hard to reach with public transportation as many of them are located in industrial areas. This limited accessibility proved to be the biggest obstacle overall. When I showed up with a guide dog, my application suddenly became problematic. One time I actually refused a job myself, because the contract mentioned that I would be employed as an employee in a sheltered workshop. When I mentioned it, they said: 'Oh, but that's just a formality. Don't worry about it.' Excuse me? A formality? Financially it made a huge difference! When I asked what kind of legal status a colleague without a disability would have, they said: manager. I said I wanted the same statute. 'But Ma'am, that's impossible, you should be grateful to even have job', they replied curtly. I replied: Excuse me, I am genuinely grateful for the opportunity that you are willing to give me, but I do want to be treated as equal.' They clearly weren't used to dealing with an impaired person who had the courage to stand up for herself. In the end, it all came down to the subsidies that they would receive. When hiring an employee with a sheltered workshop status, the organization receives a fairly high subsidy, because generally, people who work in a sheltered workshop need additional assistance. The whole affair reeked of an attempt to abuse the available systems and resources, so I nicely ended the conversation. Unfortunately, my suspicions later turned out to be right.
Back to school
After two and a half years of my intense job hunt, I got discouraged. What the hell was I doing? Yes, I wanted to work. Participate in society and actively contribute to it. But could I really? The fact that I was entitled to disability benefits and could possibly earn less money working was mentioned frequently.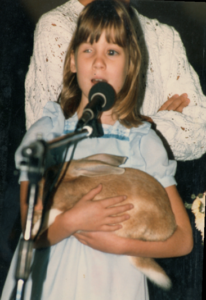 I eventually got so fed up with it all that I decided to quit my search for a job and return to my first loves: theater & music. When I was 22, I went back to school. It seemed like a great plan. After two years in the Entertainment program at the Showbizz-school in Ostend, a new challenge arose. Because I had met my knight in shining armor. Or at least, I thought I did.
Pregnant
I became pregnant, unexpectedly, and I knew this would be another tough challenge. Because it was very clear that my boyfriend did not want children.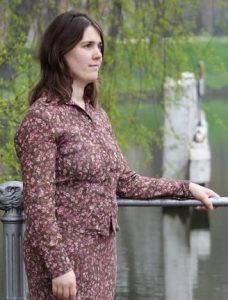 I was 24, a young woman who already had a lot of emotional luggage and life experiences. But raising a child by myself? I too had my doubts about being a single mom at first. I was able to convince my boyfriend to go the Center for Responsible Parenthood together. The conversations I had with the center's psychologist made me see things clearly. I quickly realized that, unlike my boyfriend, I really did want to keep the baby, and she helped me follow my own intuition. And that's what I ended up doing… But, this also meant the end of my relationship. I knew that my visual disability was not hereditary. Nevertheless, I contacted my professor-ophthalmologist. She ensured me that from a medical point of view everything was alright and that the baby would not inherit my disability. By that time, I thought it was time to tell my parents that they would soon be grandparents. When they had processed the surprising news, I told them that I would raise this child without a partner. My dad had a very hard time accepting this, because he knew what it was like to grow up without a father. My mother, however, was comfortable with the whole idea and made me feel like she knew that I would raise her future grandchild with the best possible care. 'Monique can do that. She doesn't need a man', she said proudly. Soon, my family, neighbors and acquaintances learned that I was pregnant… And there you had it, the first remarks and skeptical comments made their appearance as well. That I was going to have a baby, that might just have been acceptable, but on my own? That was an irresponsible, dumb, naïve, selfish and foolish thing to do! Will she be able to pull it off? Isn't she going to drop the baby? She can't possibly take care of the baby all by herself? What if the child starts to crawl and walk around? She can't possibly see what he's up to, can she? Her disability will hold the child back in his growth and development. In short: it was both impossible and irresponsible. Sometimes the painful remarks got to me, but I understood that their reaction was one of concern and fear. A fear of the unknown and my visual disability. This was definitely the case with the people who didn't know me. Because the people who did know me were both emotional and excited for me: 'Congratulations, you're going to be a great mom!' My friends where furious about the way people shamelessly told me what to do based on their own prejudice. More than once, people told my friends that they had to talk me out of it. They felt hurt by those people who had the guts to think that they had the right to tell someone else how to live their lives, and my friends countered: "We know Monique, we trust her. Everything's going to be fine. She's not on her own, she does not have to go through all this alone. We're there for her when she needs us.' Monique knows that, and she's not too shy to ask for help. She knows she can always count on her friends.' Off course, I had my moments of fear and doubt, just like any other parent. Would I really be able to pull this off? Maybe they were right? Had I been selfish? Just like every other parent, I thought about the future of my child. Because as long as it's still inside you, the child is safe, but as soon as it comes into the world, it has to go its own way…
A little too early
On May 4, 2001, at exactly 11:22 AM, my son Robin came into the world, three weeks early. It only took me two days to earn the nurses' trust, and they let me take care of him the way I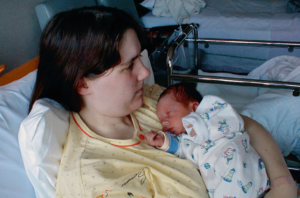 wanted to. I asked the nurses to treat me like an intern. They asked what I meant. 'Well, when I'm taking care of him, I want you to look over my shoulder and correct me if I'm doing something wrong.' They agreed and thought it was a very good plan. The young midwives were amazed by how naturally I handled the baby. The older nurses in particular sometimes left the room frowning and thinking: Hmmm, how does she do it? How I did it? Well, it really does come very naturally to me, so it's very hard for me to describe it. People say that taking care of children is in my blood, and I guess that's true. Maybe I picked up a lot along the way from all the people that took care of me when I was a child. On the fourth day in the maternity ward, I received a visit from a few ladies. The reason for their visit was that I had asked them if they, together with all the different services, could check what kind of assistance I might need and what they could offer me. I was and am able to do a lot by myself, but my sense of responsibility told me that it was alright to accept assistance. They explained me about how many hours maternity care I was entitled to, just like any other mother. They checked whether I could temporarily enjoy a few more hours of family help a month. The counsellor of Kind en Gezin, the Flemish childcare agency, explained how the organization works. Unlike the stories I'd heard, my experience with the people of Kind en Gezin was very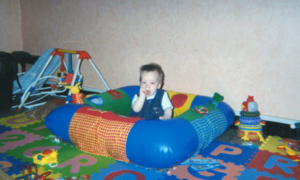 positive. I kind of needed and appreciated a service to check in with me every now and then. I didn't see that as a problem at all. When I could reassure them that way, why not? They were always welcome. I let them tell their story and mostly saw my intuition confirmed. And the people of Kind en Gezin saw that everything was alright as well. During a press conference about public transportation, I breastfed Robin in a corner, and a journalist saw me. She asked me whether she could write an article about me and my baby. For the first time ever, I had the courage to say no. I was still too emotional about how he had come into this world and asked her to give me some time. I told her that she could try again and ask me next year. I was amazed when exactly one year later, I got a phone call from that very same journalist, asking me if this time, she could do an interview with me. I agreed to an interview about being blind and being a mommy at the same time. A little while later, national television asked me if they could do a story about me and Robin.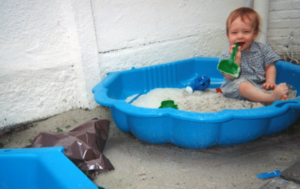 That was difficult. My private story as the subject of a testimonial, and my little guy would be involved as well? I didn't know what to do. After a few emotional conversations – to me at least – and the reassurance that they were not looking for sensation but genuinely wanted to show the world how a person who could not see a thing could still raise a child, I agreed. Because images say more than words, the story is now part of my testimonials and I use it during workshops. So today as well, I will travel back in time with you and show you my story 'Love is blind.' Back then, my son, who is now a teenager, was only 18 months old, and I myself was 14 years younger. For the purpose of this conference, I had it subtitled in English.
Out to work
After four years of being a fulltime stay-at-home mom, I thought the time was ripe to look for a job again. Not only for financial reasons, but because I craved social contact with coworkers. I loved that for the first three years, I could truly and fully be there for my child, because I do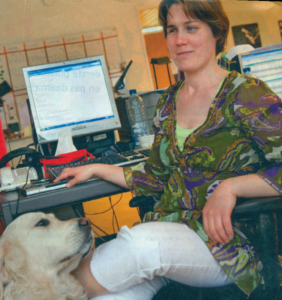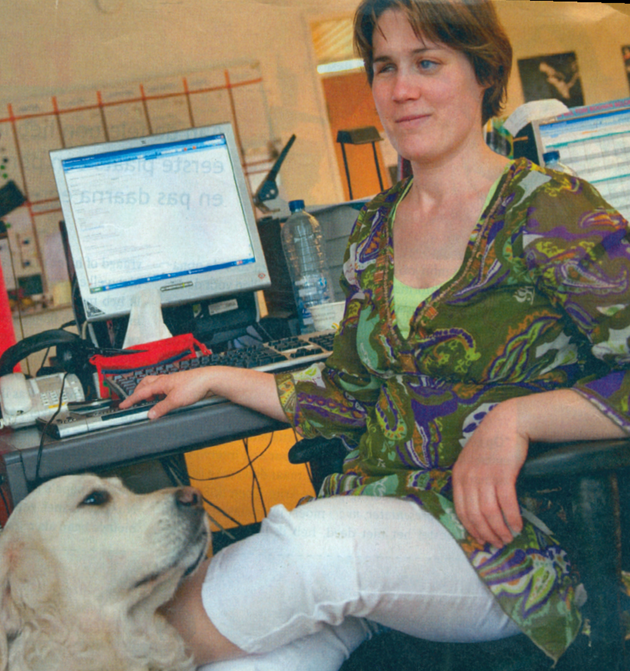 realize that's something most young moms can only dream of. But I felt increasingly isolated. Except for the six hours of cleaning assistance and four hours of family help a week, I didn't see anyone. My family lived too far away and the few very nice friends that used to take me with them every once in a while, were busy with their work and their families, as it should be. Every now and then, I'd participate in some kind of temporary project, but that was about it. And from a financial point of view, these projects were never really interesting. Before I started sending out application letters once more, I decided to do things a little differently. I took a general administrative employee course… in Brussels. It was the first test to see how I would organize my life when I was working a real job. Bringing Robin to kindergarten in the morning, hurrying to catch the bus and train, and after a day of class, the same scenario, but the other way around. My train was frequently delayed, which meant that I was too late picking up Robin from the daycare where he stayed after school. To get used to this routine, I only went to class on Tuesdays, Thursdays and Fridays. The director of the training centre simply had to point out to me – although he meant well – that it would not be easy to find a job as a single, visually impaired mom. And that going out to work would be hard. That may all be true, but I really needed the money and the social contact. Not just for myself, but also for my son.
Temporary job
About a year and a half later, I found a temporary job as a receptionist. I lived in Bruges, and I worked in Vilvoorde, so I did a 90-minute commute. You really do have to be willing to make an effort if you want to participate in this society. Some people thought I was crazy, but that wasn't exactly new, I was used to it. Others thought I was brave. One of the major advantages of my new employer was that I was not the first visually impaired person to work there. The switchboard for example was already equipped with a braille-reading device. The requests for personal working equipment were approved fairly easily. The visually impaired co-worker whom I was about to replace, still had a few weeks to go, so I had some time to settle in. I could start looking for childcare for my six-year-old. If I wanted to be in Vilvoorde on time, I had to leave at 6 AM. The train and bus connection was far from ideal. Plus, you also have to factor in potential delays when you depend on public transportation. Fortunately, I could count on the goodwill of my neighbors who kept Robin company and accompanied him to school. Every other week, Robin would stay at Pietje Pek, a great daycare where the children can also spend the week if there is an emergency or other exceptional circumstance. A lot of single parents with jobs send their children there. My job as a receptionist suited me really well and I enjoyed working there. My days were so diverse and I came into contact with a lot of people, it was really lovely! Diversity internship When my temporary job ended, I began looking for a part-time job, because in my situation, a fulltime job was simply not feasible. After a period of intense but selective job hunting, I applied for a diversity internship at the national television for the third time. Thanks to these internships, six people can gain media experience for six months. They announced that people with a disability were more than welcome to submit an application as well. Twice I was beaten by another candidate. So I thought: third time's the charm? And I was very happy when I was invited for a first, second and third round. At the end of it all, they told me that I could do the internship. I was so grateful and happy. It had always been my dream to find a job in the media. Once again, I could use all the help I could get to find childcare for Robin, who was nine at the time. Because once again I had to leave at six AM and if I was lucky, I got home at about seven or eight PM. On Wednesdays, I had a day off. We had moved in the meantime, so the friendly neighbor who used to look after Robin could not look after him so frequently anymore. Pietje Pek no longer was an option. After a few phone calls and quite a bit of negotiating, I could use a new daycare service. The caretakers came to your home, helped the children getting ready for school and accompanied them to school. Our childcare schedule was quite varied. One day of childcare service, one day with the neighbor, sometimes a babysitter or a visit from grandma and during school holidays, I took Robin with me to work. My cleaning lady came by once a week and the family help exceptionally got permission from the organization she worked for to help out three hours a week with grocery shopping and administration. Running my household was like running a company. I made a weekly schedule and hung it on the wall, so everyone could see it clearly. Robin's teacher also received copies of our schedules that I put in Robin's agenda. But I didn't mind, because I finally got the job I had always dreamed of! My internship at the public radio and television was a bit short, but I learned a lot and met a lot of great people. I would do it again in a heartbeat. Thanks to this experience as a diversity intern, it became much clearer to me how I could function in a newsroom. With that knowledge and experience, I applied for a job at one of the regional radio stations. One of them was very enthusiastic and they offered me to work there for a year, expanding my media experience. I was being prepared for a real job. Unfortunately, VDAB and its absurd rules took that fantastic opportunity away from me. I just didn't get it. I was offered unique opportunity to grow and find my way to a job, but they wouldn't allow it. I was being held back and was angry, furious even. It was another blow, not only for me, but for all the people who had invested their time and energy in me and my education, each in their own way. It made me sick, both physically and emotionally; I became depressed. Why would I still make an effort, putting my energy into looking for a job? Why would I contribute to this society if an employer was not even allowed to offer me an opportunity, simply because of some absurd rule in this odd country?
Unemployed
Sometimes, the government would send me an email with a job offer for a so-called reserved job, which is a job that only people with a disability can apply for.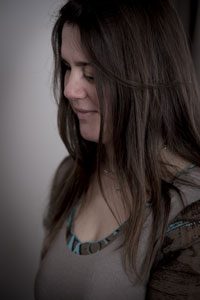 These were invariably fulltime jobs in Brussels. I did not think a fulltime job would be feasible, and I certainly did not want to return to Brussels for work: I no longer had the energy to take an overcrowded bus or metro to work and find my way through the masses to get to the office on time. I was sick of it all, I was done with all that. Meanwhile, I've kind of accepted the fact that others think that I shouldn't find a job and go to work, and that I should only live off my disability benefits. But I do still hope to find a job one day. Independent People often tell me that I'm so independent. But what does that mean? Yes, I can replace a lamp or clean the trap under the sink. Yes, I can use a screwdriver, screws and bolts. Yes, I can clean the dishes in the sink or put them in the dishwasher. Yes, I can vacuum or clean the floor. No, I can't see the dust in my house or the stains on my kitchen cupboards. No, I can't see footsteps on the floor or fingerprints on the glasses. No, I can't read a city map, but yes, I can walk, although I need a white cane, so I can feel where I walk and can navigate the obstacles on the pavement. I can only go for a walk by myself when I stick to a route that I know, that I have been taught Yes, I can cook, iron, do the laundry, weed my garden and care for the dog, cats and chickens. No, I can't see dog poo or the little mouse on the terrace that the cat caught as a gift. Unfortunately, I only discover that when I step in it. No, after a storm, I can't see how the wind whipped my garden or the scattered garbage on the terrace. Yes, I can go get the mail, but I do need a scanner or a volunteer to read the letters aloud. And no going to the beach, a festival or on a holiday… I can only do those things if someone accompanies me. A little help around the house.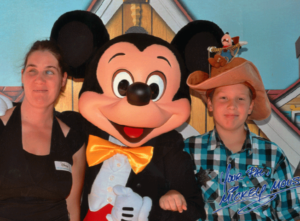 Like I said this afternoon, being independent also means that you have the courage to take care of yourself. That includes asking for help or assistance if necessary. After 13 years, a few reviews and even two extremely urgent cases, I got a personal assistance budget, which allowed me to 'buy' help. I had been on the waiting list since the beginning of my pregnancy. Robin celebrated his thirteenth birthday, and that month I finally received the budget I had waited for, for thirteen years. The difference between personal assistance and family and cleaning help is that the system is much more flexible: you can easily plan the hours of help that you need. Compare that to the cleaning lady and family help, who only come by at a specific time during office hours, and their range of duties is very limited. A personal assistant, on the other hand, adapts his or her working hours and range of duties to the needs of the family that she works with. And not unimportantly: you do not have to pay personal assistance from your social security payment… The people who help and assist me don't simply do all the work for me, they truly do assist me. The cleaning lady and I clean the house together: I do whatever I can, she takes care of the visual details. The family help and I go grocery shopping together and take care of my administration. My assistant and I cook a more complicated festive meal together or we ride to yoga classes or the gym on a tandem. She accompanies me when I go to the doctor, acts as my driver when we go on a trip, but also when I have a lecture, when there is a parent-teacher conference or simply to visit my family. Since recently, I've also been getting help with gardening, etc. Every now and then, I go out with my volunteers in the evening, to a concert or play. Thanks to this personal assistance budget, I am now surrounded by a very nice team who support me and Robin where we need it. Once again, running my household is like running a company, because the cleaning lady, family help and volunteers all require careful planning and follow-up. And you can take it from me when I tell you that being an employer isn't always easy: you're managing people, and you constantly have to be flexible and adapt to assistants coming and going. Honestly, I'm lucky that my brain is perfectly fine, because composing a work schedule, dealing with payments and administration and listening to your assistants' stories … It can be demanding at times! But I am incredibly grateful for and happy with the fantastic team that I can now pay thanks to this assistance budget. I have regained a part of my freedom!
Is your teenager not helping out at home?
I can hear some of you think: But what about Robin? Doesn't he help out a lot at home?'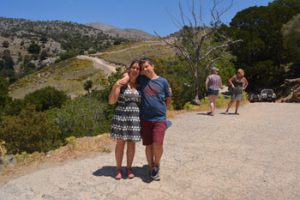 I don't know why, but people thought and still think it's necessary to tell Robin, when we were waiting for the bus or go shopping together for example, things like: 'You need to take good care of your mom, okay? You need to help her out.' That kind of remarks drive me crazy. That's not something you say, especially not to a young boy. Burdening a child with this kind of responsibility is simply not okay. We take care of each other. Robin is my son, not my personal assistant. I take care of Robin, not the other way around. It was my decision to bring him into this world, and I make sure that he gets the space to grow at his own pace. If I would be so lucky to reach the ripe old age of eighty, then I'd hope that Robin would want to take care of me – if it would be necessary, that is. Sure, a sixteen-year-old teenage boy can mow the lawn, go buy bread, take the dog for a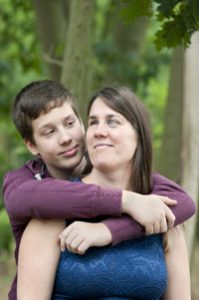 walk or empty the dishwasher. In a lot of families that I know – with parents who are not disabled – the parents make lists of chores or the children take turns doing chores. I don't have a list for Robin, though maybe I should make one, one of these days. I do admit that now that he's getting a bit older, I'm inclined to ask him a little more quickly to help me look for something when I can't find it immediately. But as I said before: Robin is my son, not my personal assistant, and I gave him the space to be a child and a teenager like any other. And I will continue to do so. Sure, he hates shopping for clothes with his mother, even though they're his. And he does throw his jacket over the chair, just like any other kid. He just throws his shoes in a corner and I find candy wrappers everywhere except in the trash can. And when I tell him to tidy up his room, he thinks I'm nagging and whining. But all of that is absolutely normal.
What the future brings
The fact that I am legally unemployed allowed me to have the time and space to think about everything I've been through the past years. Finally I've found the time to take a yoga and meditation class, and to do something with the question a lot of people have asked me for years: Monique, please write down your experiences in a book, because we love your perspective on life.'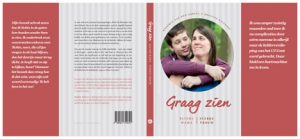 On February 4, 2016, I finally presented my book 'Apple of my eye! Blind mother, strong woman' to the public. It had never been my intention to put myself in the limelight with my personal story, it just came to be, just like all those other things that crossed my path along the way.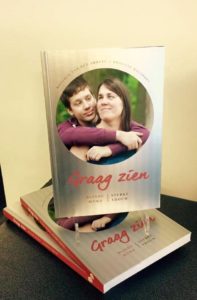 So now I give lectures and talk about my experiences, I am planning to start my own non-profit organization and am almost fulltime involved in honest and positive representation, but I also still try to make the dreams I had as a young girl come true… At the moment, I am an employer to my assistants, the coordinator of my own non-profit organization and an author travelling the country with her book, and the law still mainly considers me a single, unemployed mother with a visual handicap…
Conclusion: Is my life so different from yours?
In my experience, being physically blind is not the same as not being able to see. I know that a lot of people would disagree. When I say loud and proud that I'm not blind, people tend to protest. And sure, the fact that my eyes can't see, is the cause of a lot of practical obstacles and concerns.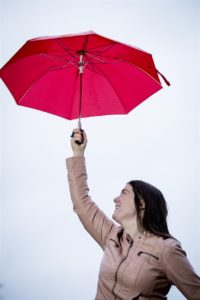 But I don't consider and experience like being blind a disability as such. It is often society that makes it a true disability and blocks the pathway to honest integration. It's the persistent bias and prejudice about my visual problem that stunt my personal development, and the development of many others. It is not my unseeing eyes that deny me opportunities, but the persistent bias about being blind. Besides your personality, the social context and the moment or way in which you became visually impaired is crucial. Do the people that surround you take over completely? Or do they motivate you to find out how you can deal with things within your own limits, your own possibilities? Can you rely on the support of others or do you have to manage all by yourself? The professional support, the insights of the educators, teachers, nurses, my family situation but also, and probably most of all the stories of other blind people were and still are the building blocks of the person I am now, and of my autonomous lifestyle. I can assure you that it's been very hard sometimes. My family situation was fragile, I mostly grew up in the hospital or at school, I often had to reach out myself to get into contact with authorities and organizations and I regularly had to point out their very contradictory rules and regulations. As far as assistance or support is concerned, I often fell somewhere in between, because I'm not your average blind person. I was always very wary of being overprotected and fought hard for my proper values and personal development. Loneliness is a constant trap, and every so often my brutally honest style of communication can be an obstacle. Some days, I stay in bed and cry because I'm hurt and angry. Because despite the many testimonials I give and my participation in lots of projects, people continue to be very short-sighted. I had to learn to accept that people will always see my 'blind' eyes first. Only after they've taken the effort to approach and get to know me, they can see beyond my visual disability, they hear my voice and see the woman that I really am. And yes, sometimes that hurts. I've decided not to wallow in self-pity. Not only by listening to the stories of blind people, but also by taking them into account, learn lessons from them. I mostly decided to listen more closely to my inner self, to rely on my intuition and grasp the opportunities that lay before me. I like taking a leap, taking chances, chasing my dreams and finding my way. Living your life to the fullest, is the only way to find out whether that so-called threshold really has to be a threshold. Whether that limit is truly a limit. I keep choosing for an honest and open communication with the visual world. I love finding out together how I can do and see things my own way. Integration means listening to and learning from one another. No, I am no Wonder Woman. I really am not! My secret is to be deeply grateful for all the experiences that have crossed my path and still lay before me. Beautiful experiences, but also the less positive ones. They made me the person I am today. Over the years, I've experienced that my life really is not all that different from the lives of people with well-functioning eyes. And I confess: besides being deeply grateful for all the nice people I've encountered along the way and all the things that I am still able to do, I am also simply happy. Does anyone have a question or a comment? Now the only thing that's still left to do is thank you all for coming here today and dedicate your time to listen to me. I hope that my contribution to this congress was a useful one. And who knows, maybe somewhere along the way, we'll meet again.